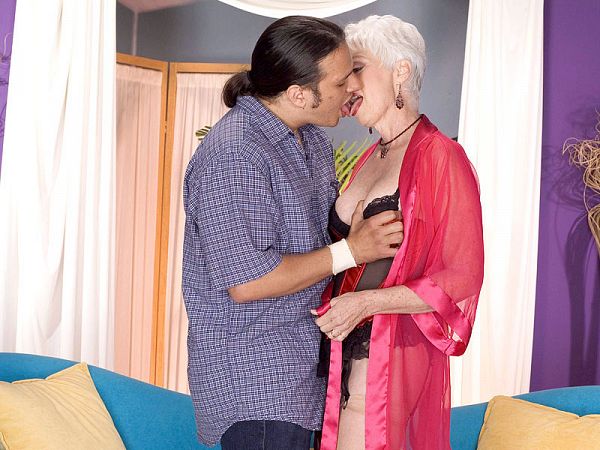 "Fucking is great, but being watched while I'm fucking makes it better," sexy, 58-year-old, white-haired Suzy said. "The fact that my husband was sitting 10 feet away and watching while this scene was being shot makes it even better."
This scene has never appeared on 50PlusMILFs.com. Nor has Suzy. She's a hairstylist and housewife from Florida who, when we asked her what kinds of guys she likes, said, "Nine inches or better is real nice!" She didn't mean their height, of course. She meant the size of their cocks.
Suzy just isn't like most 58-year-olds. She's a swinger who loves to watch and loves when people watch her. She's never had a problem seducing men her age and older but wanted to see how she'd do with a younger stud, which led her to us. The guy is 28.
How'd she do?
"Great pussy," Anthony said. "Tight as an 18-year-old's."
How'd he do?
"Great," Suzy said. "But I don't discriminate. Old cock, young cock…it's all good."
Suzy's wildest sexual encounter: "In an elevator on the ninth floor with the door held open so it couldn't move. That was wild. We did get caught, by the way."
Suzy said a man can get her attention by "telling me how sexy I am and rubbing against me. That tells me he's really interested in me, especially if he's hard!"
The guy in this scene? Definitely interested.