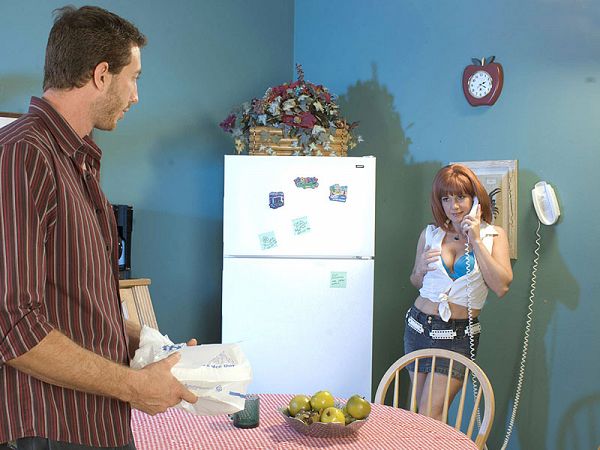 In a scene from the movie I Fucked Your Wife Again that has, somehow, never appeared on any website, Calliste Garnet, a 48-year-old hottie from San Francisco, fucks the 28-year-old delivery boy. The guy has just delivered Calliste's food order, but her hubby isn't going to be home for an hour.
"The food's going to be cold by the time you get here," this scorchingly hot redhead tells her hubby over the phone.
The food might get cold, but Calliste's pussy is hot right now. She really doesn't want to eat. She wants cock. So she quickly seduces the delivery dude, who starts out by fucking her pussy with a toy. Calliste has great pussy lips. Then she sucks his cock. He fucks her on the kitchen table, and between positions, he fucks her mouth. Calliste gags on his dick, and he cums on her pretty face.
Calliste was working as a cocktail waitress in a casino on the Vegas strip when she first shot for us. As for this scene, she told us, "It was fun making believe I was a wife who was cheating on her husband because if I had to do it all over again, I would've cheated on my ex-husband. Hey, he cheated on me, and I was dying for cock at the time. But now I'm getting all I want and more. I plan on satisfying all of my fantasies."
Calliste's fetishes: "I love having my feet and ass worshiped."
Panties? "I only wear thongs."
Masturbation? "I do it constantly. I like to push down on my clit from side to side while I pick out something kinky to focus on until I have a great orgasm."
She has sex almost every day. She told us she wants to have a gangbang. Calliste, if you're reading this, please let us know if it ever happened.