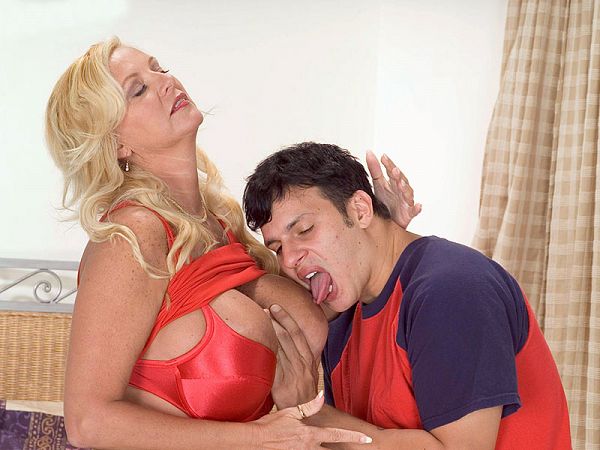 Heather Lane, a big-titted, 42-year-old MILF, was a former school teacher who came to Miami, Florida to fuck on-camera for the first time. She told us what she did with Anthony in this scene, remastered and showing on 40SomethingMag.com for the first time.
" I sat on top of his cock and rode and rode and rode, then he put me on my side and thrust real deep. He's got this big, hard cock, and he teased me a little bit, then he slammed it into me really hard. It made me just scream with pain, but it was a good kind of pain. Very enjoyable. Then he stuck that big, hard cock between my boobs, and I squeezed it tight, and he almost came all over my tits. He had to stop. Then he fucked me doggie-style, which is one of my favorite positions. He just grabbed me and slapped my ass and fucked me deep, and I felt his balls against my pussy.
"We must have spent an hour just having wonderful sex. He's got a big, big, hard cock, and he knew what to do with it. I absolutely loved it. And he played with my big tits, and he came all over me and in my mouth, and I swallowed his cum. It was delicious!"
40Something: You used to be a school teacher.
Heather: Yes. When you watch my video, you'll be able to see that I follow directions well and I give directions well.
40Something: When you were a teacher, did you have big tits?
Heather: I was very large. I don't know if I was an E-cup, but my tits were very big. It wasn't high school, so I don't think I was appreciated as much by the students, but I was a big-boobed school teacher.
40Something: A big-boobed school teacher with a shaved pussy?
Heather: Yes, I was. I wore stockings and high heels to school. I like feeling sexy. I liked the way the silk felt against my legs when I taught school and walked in the hallways. It felt very good. I wouldn't wear a bra, and the shirt would rub against my nipples, and I'd have hard nipples in the classroom. I had to be careful about that.
40Something: The gym teacher was walking around all day with a hard-on, wasn't he?
Heather: No, not really because the gym teacher was female. [Laughs] That was the only problem. I worked with all women except for the custodial staff.
40Something: Which was jacking in the basement, I guarantee.
Heather: Maybe. I had a hard time calling them to get them to do things, so maybe they were jacking off in the basement. Although you'd think that if they jacked off while thinking about my big tits, they'd come running to see them. I thought about fucking a couple of them, but I was afraid I'd get in trouble. But if I knew then what I know now, I'd have fucked them.
40Something: What do you know now that you didn't know then?
Heather: That fucking is worth anything. That big, hard cock is worth the risk, no matter what.