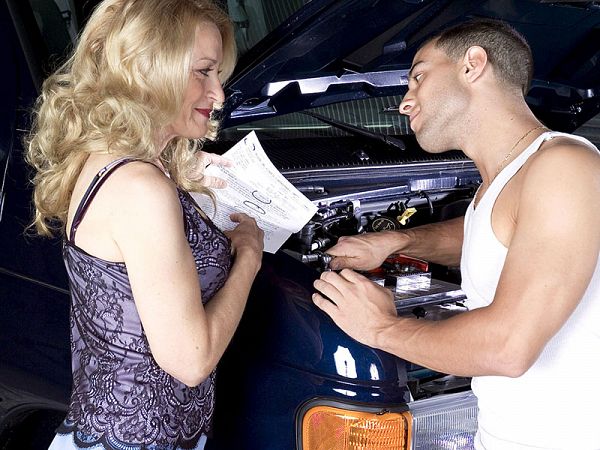 Robin Pachino, 50, drives her car into the auto repair shop and checks out Mikey, who's stretched out under a car, doing some work. She tells him her car isn't working and has no idea what's wrong with it. So he looks under the hood, but you'll be looking up Robin's skirt as she bends over the car. She's wearing stockings and thong panties.
Turns out there's absolutely nothing wrong with Robin's car. She came to the shop for some young cock, and before long, she's grinding her ass against Mikey's crotch and he's grabbing her tits. She sucks his dick right there in the garage, then he lays her down on the floor and fingers and fucks her pussy.
What kind of woman fucks a 23-year-old stranger on a garage floor?
A slut.
"I have a little submissive streak, so getting fucked on the dirty floor of a garage was a real turn-on," Robin said. "I became a slut when I turned 50. What else would you call a woman who, out of the blue at age 50, decides to start fucking strangers in front of the camera? I know what my ex-husband and my children would call me if they knew. They'd say I became a slut. Okay. I'm proud of it."
Not that she cares what her ex-husband thought.
"My old job was boring," she said. "My marriage was boring. My life was boring."
It stopped being boring.
This scene was shot in 2005, when Robin was starting out in porn. It was featured in the DVD MILFs & Mechanics but, until now, had never been on any website. Six years later, Robin returned to our studio and had a threesome and a foursome with 50Plus MILF Honey Ray. In 2017, she came back again and got DP'd by two studs for 60PlusMILFs.com. She's now 64 years old and has been a slut for over 14 years.
"Why did I get into porn?" Robin said. "Because I wanted to get fucked by young studs. Because I thought it was the best way to enjoy anal sex. Because my life was boring and I needed some excitement."
Robin's message to her ex-husband: "He's an asshole for losing the best piece of ass he'll ever have. Eat your heart out, baby!"