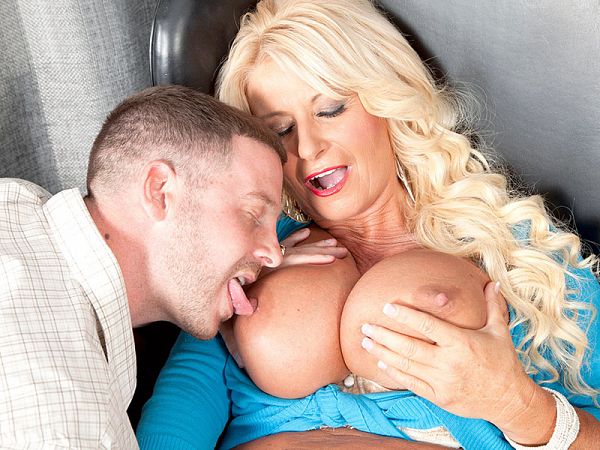 "I watch porn but not regularly," 49-year-old divorcee Annellise Croft said. "I like watching it. It turns me on. If I feel sexual and want to cum and play with myself, I'll watch porn doing it, and it doesn't take long. I'm a fast cummer."
We find that out in this scene, in which always-horny, super-busty Annellise gets fucked every which way by Tony.
"I love the idea of being a model and having sex on-camera," she said. "It turns me on to know I'm being watched,"
Yet she had never modeled before she came to The SCORE Group and became a star on our MILF sites and SCORELAND. She'd never danced in a strip club. That's surprising with her body and sex appeal.
"I always wanted to try modeling but never had the chance until now. Thank you, SCORE Group."
The pleasure is all ours…and Tony's in this scene.
Born in England, Annellise is now a resident of the USA and living in Tennessee. She was referred by a friend of 60Plus MILF Bea Cummins.
Annellise has nipples that can cut glass. They're two of the pointiest, elongated nipples you can find. Nipples like this are very hard to find, especially when their owner has a hot, busty body and wants to show it off.
Said Annellise in her sexy Brit accent, "At night when I sleep, I don't wear a bra. Sometimes when I go out at night, I don't wear a bra. It depends on the situation and where I'm going. If I'm going out for the night, maybe dancing, I like to dress provocatively and classy at the same time. I like to be more of an exhibitionist. I like to dance and show it all off. That's why swingers places are good for me, so I can show it all off."
Watch how Annellise spanks her clit fast, her hand moving at supersonic speed while the cock plunges into her pussy. Annellise sticks out her long tongue for cum when he prepares to spray his load in her mouth. She swallows all the cum that doesn't land on her tits. As sexy, busty MILFs go, they don't come–or cum–any better.