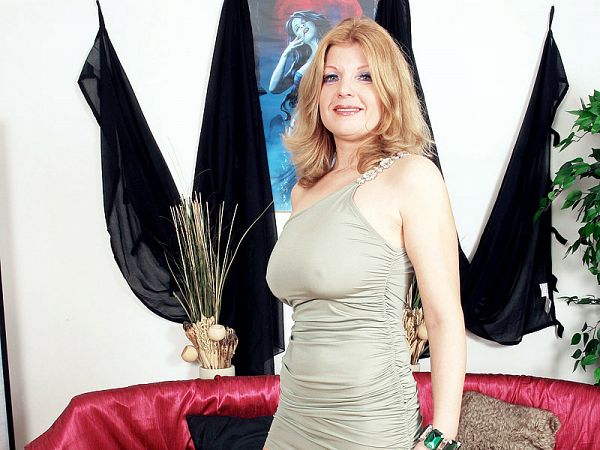 When this video opens, Suzy, a 50-year-old divorcee and mom, has her tits out. Well, one of them, anyway, but the second comes out very quickly. Suzy has big, beautiful, natural tits. The first thing she does is take out a dildo and rub it all over her breasts. The next thing she does is rub it over her pussy. And the next thing she does is pull her panties aside so she can show us her pussy and ass.
Then Joey shows up, and the first thing he does is worship Suzy's sweet ass. He fingers her pussy and eats her ass then he fingers her asshole.
Now, if this were like most other porn videos, Suzy would then suck his cock and Joey would fuck her pussy. But this is not like most other porn videos because the next thing Joey does is slide his cock deep inside Suzy's tight asshole. So, yeah, they skipped a few steps, but who's complaining? Definitely not Suzy.
Suzy gets ass-fucked doggy-style and in the spoon position, her tits jiggling, her face overcome with lust. She's so horny that when Joey removes his dick from her butt-hole, Suzy eagerly sucks it, treating us to some ass-to-mouth action.
Then Joey eats Suzy's pussy, so, yeah, like we said, they got this one a little backwards. And then he spends most of the rest of the scene fucking her pussy before spraying her face with cum. Some of it gets in her eyes. Some of it gets in her mouth, but not once does Suzy dodge his cum. She rubs it in.
Said our videographer, "When they were getting ready for the scene, Joey kept eyeing Suzy and saying how much he wanted to fuck her ass, and Suzy said, 'It's all yours!' They were supposed to follow the normal progression–blow job, pussy-fucking, ass-fucking–but when Joey went right for her ass, Suzy didn't stop him. I definitely wasn't going to."
Said Suzy, "I was surprised when he went right for my ass, but I didn't mind, not when it felt so good!"