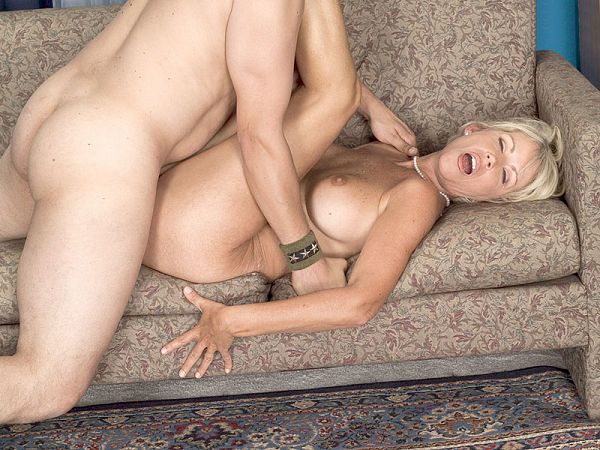 Sherry, a 49-year-old divorcee and mom, is sitting in her car at a park in South Florida.
"My girlfriends and I share boys," she tells us, "and this one was recommended to me."
The girlfriend doing the recommending was Shannon, who fucked Anthony at 40SomethingMag.com. Now it's Sherry's turn, but Anthony is late. How can any guy be late for a piece of ass like Sherry? Idiot! He's not getting laid today, is he?
Well, yeah, he is because although a woman like Sherry doesn't like to be kept waiting, she doesn't like to be kept horny, either.
When Anthony finally shows up, he hops into her car, and the first thing he does is go for her tits. Then they go back to her place, where he eats her pussy (gentleman that he is) and she sucks his big cock. She takes as much as she can down her throat, and Anthony lends her a helping hand by pumping her mouth full of cock.
Gentleman, we said.
This scene was originally posted on 40SomethingMag.com in 2005, and we've remastered it and brought it back (including in streaming mode) at the request of a member. Do you have any favorite vintage scenes you'd like to see again? Let us know.
"I once had an orgy with some of my closest girlfriends, but this is much wilder," said Sherry, who was born in Texas and was living in Florida when she came to our studio for the first time. "A lot of women eat pussy. Not many women fuck on-camera."
Sherry was a businesswoman and a bit of an exhibitionist.
"I love to attract attention," she said. "I love to be on all fours getting fucked from behind. My man can massage my clit or maybe I'll do it myself. Most guys cum in my pussy or in my mouth. This is the first time a guy came on my face. I liked it.
"But that's no surprise. I like everything about sex!"