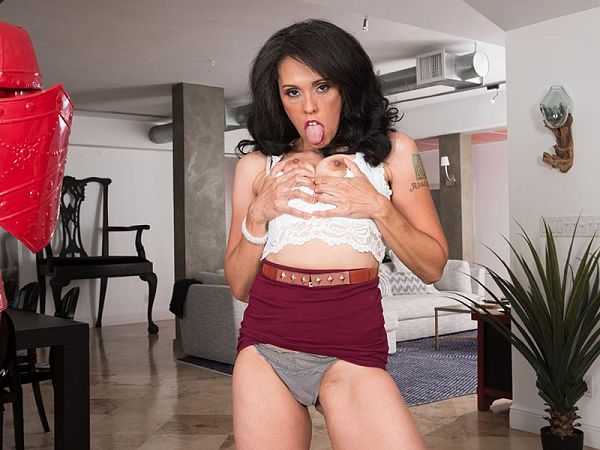 "I'd like to be with a woman one day and have a threesome," 44-year-old divorcee and mother of three Gypsy Vixen said. "I'd also like to try it with two men."
Today, however, it's just you and Gypsy. She's wearing a midriff top and a short skirt. She shows you her ass then her little, floppy tits with dark, hard nipples. She takes out a pink toy and licks it, then she fucks herself deep, getting her long, shapely legs wide and up while talking dirty. She drills her well-used cunt hard, and after she cums, she says, "Look how wet my pussy got. I hope you shot a big, fuckin' load."
Don't disappoint the lady, fellas.
Gypsy is a woman-next-door, but she could be a star. She has the porn star moves and she loves to fuck. Talk about a red-hot Latina!
Gypsy was born in New York City and lives in Texas. She's 5'4″ and weighs 128 pounds. When she goes out for the day, she usually wears "tight-fitting jeans with either a nice tee or a blouse." She does wear panties. As for dates, she told us, "I'm adventurous by nature, so anything different than the typical dinner, movies and drinks is good. I like outdoor dates such as fishing or hiking or maybe going to a street festival."
Gypsy on masturbation: "When I'm in the mood, I'll watch some porn, get my vibrator out and masturbate until I have at least two orgasms."
She's not a nudist, "but I feel like I'm evolving into one."
Coming to 40SomethingMag.com was a good start.