Granny's kitchen magician: a fuck machine!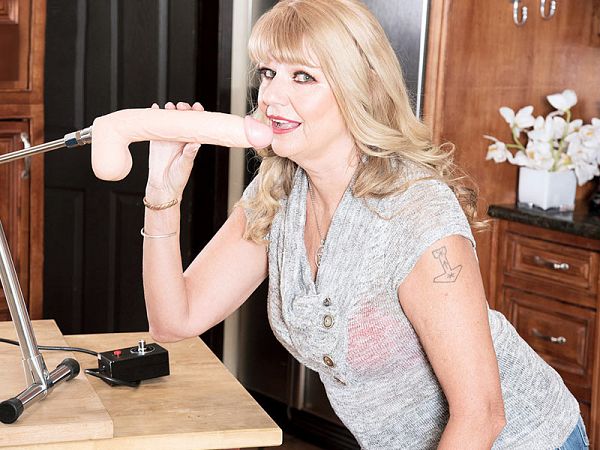 "I'm at home in my kitchen today," 61-year-old MILF and GILF Mia Magnusson says at the start of this video. "Just doing some dishes. Somebody bought me a new kitchen appliance. Can you guess what it is? Do you think it's a dishwasher? No. Is it a blender? No, I already have a blender. Do you think it's a food processor? Well, it's a processor but not necessarily for food. Let me show you what it is. You're gonna love it."
She shows something to us. It's a weird contraption. Kinda looks like a remote control or something like that.
"It has its own little controller," she says, "and you can put it as fast as you want or you can slow it down. Do you still not have any idea what it is?
Well, here's the deal. It's not really a kitchen appliance. Oh, sure, you could use it in a kitchen but it would be better used in a bedroom.
It's a fuck machine with a big, fat dildo attached!
"This is my boyfriend for when I have no boyfriend," she says, then she takes a suck of the dildo. Then she takes off her clothes, lies back and has it fuck her pussy while she diddles her clit.
No food will be made today in Mia's kitchen. But well-fucked granny pussy is on the menu!