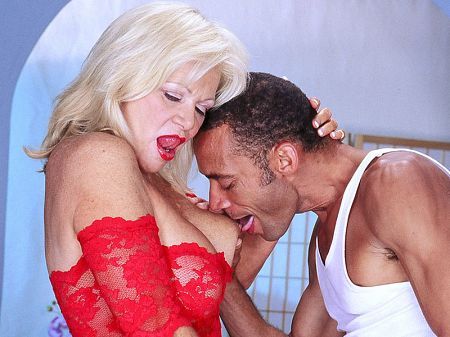 In this remastered, vintage scene, Victoria, a 53-year-old divorcee and mom from Houston, Texas, tips a huge-cocked hired hand by offering up her big tits and shaved, pierced pussy. This busty old broad deserves a big cock, which is why we gave her one.
"I was hoping to have the real porn stud experience," Victoria told us. "I loved when he fucked my tits and came all over my face." You just have to see the load this guy leaves on her face and tits. Huge!
Victoria was an exotic dancer when she came to us. We asked her if 53 is a little old to be a stripper, and she said, "Don't ask me. Ask the guys who cum in their pants when I give them a lap dance."
This scene was shot before there was such a thing as 50PlusMILFs.com, so this is the first time it's appearing here.
Victoria's perfect day: "Going to a football game with a hot, young stud and then eating pizza. And then him eating my pussy before we fuck all night long!"
Victoria's favorite position: "On top."
Favorite movies and TV shows: "I don't watch TV and I only watch my own movies."
This is a great one.