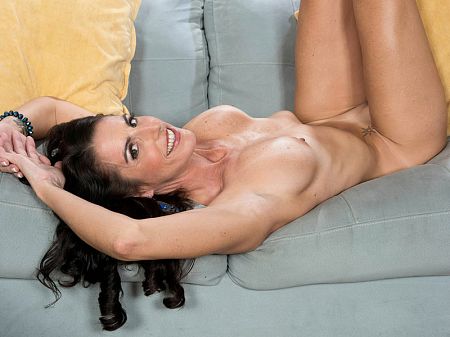 "I don't want any man coming into my personal space unless he's invited, but once he's invited, anything goes," said Katrina Kink, a 46-year-old mom from California who invites us into her personal space in this scene. This brunette beauty with big, tan-lined tits and long legs also invites a big dildo into her tight pussy.
"I can't wait to get my clothes off and get naked for you," she says. "I'm so horny. I want you!"
She can have us. Katrina doesn't use just one toy. She uses two: a purple one on her clit and a pink one in her pussy.
"I'm open about the things I enjoy," Katrina said. "My friends all know me as open-minded, adventurous and risque, so the fact that I'm doing this wouldn't be much of a surprise to them. Although I'm not a swinger or a nudist, it is a huge turn-on for others to watch me do sexual things, so it makes sense for me to be here. Even just having other people in the studio watching me was hot."
She's obviously hot in this scene. She keeps up a non-stop stream of fuck talk. Well, not exactly non-stop. She stops to cum.
Katrina is a hot little brunette. She's 5'6″ and weighs only 120 pounds. That's tight and right. She has some modeling experience (although not this kind of modeling experience).
"I love to use my vibrator on my clit and finger my pussy," she said.
As you're about to see, she's definitely not all talk.