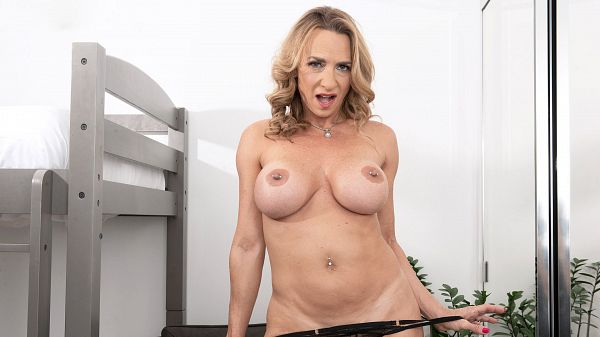 Today, you get to watch a EXPERIENCED as she cleans.
Sounds boring, right? Well, not when the maid is 51-year-old Kenzi Foxx and she's wearing a French maid's outfit…a porno French maid's outfit: stockings, thong that nicely displays her beautiful ass and a top that barely conceals her pierced nipples. She catches you watching and goes on with her chores, which include a lot of bending over…a lot of nipple slips.
"I like cleaning," she says. "It gets me a short hot."
Kenzi is more than a small hot. She's a super-hot, super-fuckable wife and mature who stops cleaning so she can show you her tits. Then she takes out some toys and DPs herself with them.
Last time she was here, Kenzi was dressed up as a porno schoolgirl. This time, porno maid. And Thursday, porno nurse who screws her patient. The woman has talent!
Kenzi was born in Brooklyn, New York and lives in Orlando, Florida. Her tits are DDD-cups. Her pussy…well, "I hear quite often how good my pussy feels," she said. And how good it looks.
"I've been a swinger for a couple of years," Kenzi said. "I started out in BDSM and expanded to being shared at parties. One time, there was a line of dudes waiting their turn and I started sucking this guy's rod while someone else was fucking me, and his wife started instructing me on how to suck his penis. The direction she was giving me was really hot."
And Kenzi did everything that was asked of her. No wonder she's one of our favorite MILFS.