Sent to the Principal's Office for a Blow Job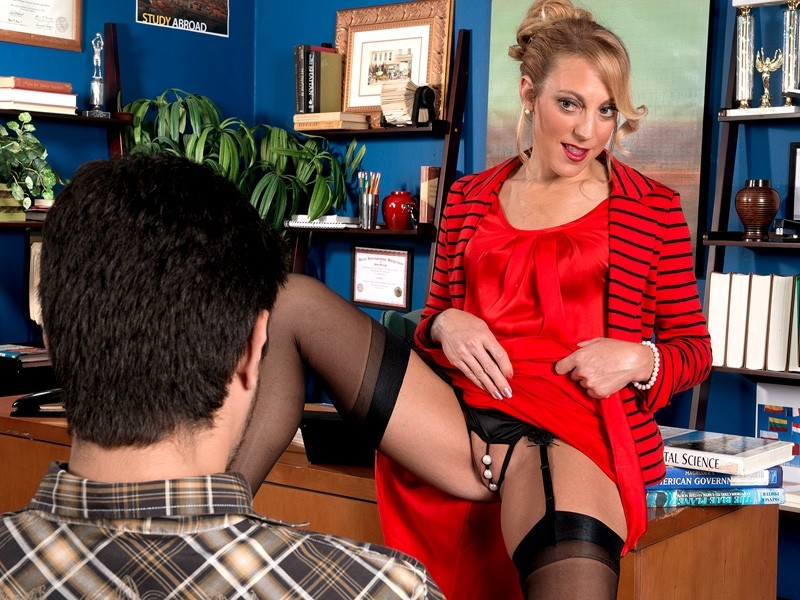 James has been sent to the principal's office again, but it's not necessarily going to be a bad day for him.
"I'm the good guy here," he protests. "It's just that everybody else likes to fuck with me."
"Playing the bad boy can get you into a lot of trouble," Ms. Shay tells him. She comes around in front of her desk and sits down. "There's a lot of different types of trouble you can get yourself into."
To James' shock, Ms. Shay lifts her skirt, exposing a pussy that's covered by some funky-looking panties.
"Are you up for it, James?" she asks.
He's up for it. He fingers her pussy. She gets down between his legs and sucks his cock. She ends up with his load all over her face. Apparently, this is the good kind of trouble.
As for Ms. Shay, she's Charli Shay, a 42-year-old divorcee and mother of two from San Diego, California. She has a smokin' hot body–tiny, firm tits, a little waist, a firm stomach–so it's no surprise that she works in a gym. No, she's not a teacher or a principal. But she'd make a great one.