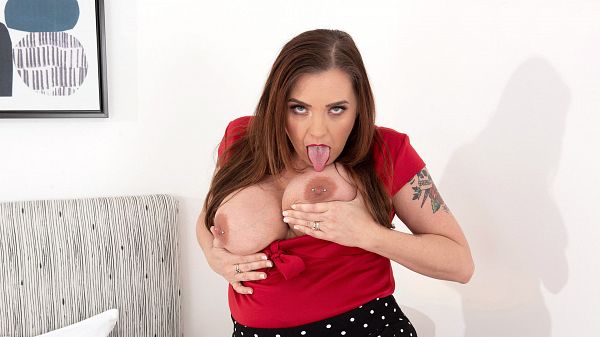 Denise La Fleur is cleaning her house, but why is she wearing a tight top that shows so much cleavage? Well, this 40-year-old wife and mature always dresses to show off her body, but here, she has an ulterior motive: She expects her husband to come home any minute, and when he walks through the door, she's planning on getting down on her knees and sucking his penis. Maybe tit-fucking him. Definitely screwing him.
So, as Mrs. La Fleur cleans, we get very nice views of her big tits and beautiful bum. We've never had so much fun watching a dame do housework. But then she gets a call from her husband. He's going to be home late. She's disappointed. He's a fool.
"I'm so horny right now," she tells Mr. La Fleur. "I was hoping you'd be home. I'm dripping right now. You're missing out."
Fortunately, Mr. La Fleur's loss is going to be our gain.
"He can't expect me to wait," she says after hanging up. "I'm so wet right now."
So, rather than waiting, Denise gets her tits out and licks her pierced nipples. She plays with them then she lies back, takes off her underwear and fingers her beautiful, pink, gaping pussy.
Although, as we said, her hubby is a fool for not rushing home, we gotta give the dude some credit: He's a big reason she's here, showing off her body and fucking for all the world to see.
"He encouraged me to be confident and not worry about what other people think," Denise said.
She used to have friends who tried to shame her.
"I was raised in a very strict, conservative household, so we couldn't even talk about sex," she said. "I've really come a long way in a number of years."