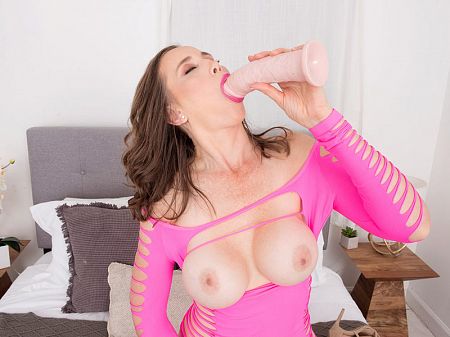 Lilly James, a 46-year-old wife and mom, looks stunning in a little pink dress that's cut down the side and shows off a lot of her firm, tight body.
"How do you like my outfit?" she says. "Do you like this color?"
Color? We didn't notice a color. We just noticed legs and tits.
"I have a little surprise for you," she says. "but I'm not gonna tell you. I'm going to let you wait and find out what that surprise is."
The surprise is not the dildo that's on her bed. The surprise is not that Lilly sucks the dildo like it's a real cock and fucks it, too. Why would we be surprised by that? We've already seen Lilly fucking at 40SomethingMag.com. We even watched two studs take turns on her sweet ass.
The surprise comes at about nine minutes in, when–SPOILER ALERT!–Lilly squirts again and again. That's why this scene is in the new movie Wet Moms.
"People I know would be surprised to see me here because I'm usually very quiet, Lilly said. "I'm very conservative."
Lilly is not quiet in this scene. She cums hard and loud. And we wouldn't call a woman who squirts on-camera for all the world to see "conservative." But we guess that depends on your definition of "conservative."
Lilly lives in Houston, Texas. She works in the medical field.
"All my jobs have been serious," she said. "I've never had a fun job."
Well, Lilly got paid for showing her body and fucking at 40SomethingMag.com, but she wouldn't exactly call it a job. She had too much fun for that.
"I like to go on dinner dates," she said. "I've been told I'm a MILF."
Damn right she is.