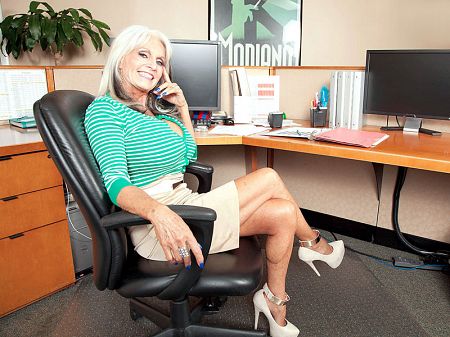 In these photos, the great Sally D'Angelo is a secretary. I can imagine that: Sally wearing tight, form-fitting clothes to work, teasing her boss and everyone else who works there, and doing more than teasing. "Cock-tease" has never been used to describe Mrs. D'Angelo. Today, she strips out of her clothes, shows off her tits and deep-fingers her tight old pussy. How does Sally keep her pussy so tight?
"It's exercise," she said. "You have to do the Kegel exercise. And when I pound, I make sure to squeeze my pussy. That helps to keep it tight. But I workout, too."
Sally is not one of those women who's conservative in her personal life but then busts out when she's in our studio. The truth is, we've never seen Sally in anything but revealing, sexy clothes. She's always in either some kind of stripper outfit or she's naked.
"I like to be as naked as possible all the time. The less clothes I have on, the better. I walk around the house naked in high heels, too. My husband likes it. He's a short perv. That's why we fit. You know what they say, dirty minds think alike."
SCORELAND Editor Elliot James once wrote, "I don't know 20-year-old girls with sex drives close to Sally D'Angelo's. I don't know 30-year-old porn stars with the kind of dirty mouth Sally has when she's getting dicked-down. When Sally arrives at TSG, she will get out of her car and walk across the parking lot. While I like to watch females walk, there's nothing particularly striking about walking…except Sally wears clothing and eight-inch platform shoes made for strip clubs, brothels and porn shoots."
And yet, she's a GILF.
"My husband and I both like being nude," Sally said. "We're swingers. We have our fantasies and we try to live them. We're open about objects. We go out and have sex wherever…in a shopping center or mall. We're just all over the place with sex. We just have a great sex life, and we have a lot of fun no matter what we're doing.
"My husband and I were at a swingers convention in Las Vegas and your magazine happened to be out there. I was strutting my stuff like always, and I was approached. At the time, I was in my late 40s, going into my 50s. I was asked if I'd like to do some shots. I said sure, that sounds like a lot of fun. But at the time our business didn't coincide with what your schedule was. So now that we're in Florida most of the time and our business doesn't require us to be on-hand, it gives me a lot more free time and opportunity to have some fun and try some fantasies I've had."
Like this one. Sexy secretary. It definitely works.
See More of Sally D'Angelo at 60PLUSMILFS.COM!