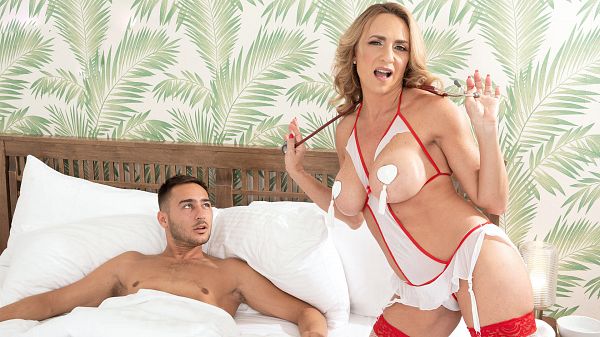 Milan is sick in bed. He needs a nurse. Fortunately for him, when he wakes up, he sees Nurse Kenzi Foxx standing next to his bed. He can't believe his eyes. Is she a reality nurse or a porno nurse? Is there a difference?
Well, yeah. A reallife nurse would be wearing a boring white uniform. Porno Nurse Kenzi is dressed in a petite outfit that conceals almost nothing. Her nipples are barely covered and she's wearing white stockings. And a reality nurse probably wouldn't reach under the covers and stroke her patient's rod. And suck it. And nail it.
So, to sum items up, Porno Nurse is a lot better than Reality Nurse. And just in case you were wondering, Nurse Kenzi is 51 years old. Her patient is 27.
Kenzi is from Brooklyn, New York and lives in Orlando, Florida. She has DD-cup tits. She's an aerobics instructor and a personal trainer. She told us, "I love to be watched. I go to clubs and meet men there so people can watch me get humped in the open play rooms. I love to have an audience and put on a show with multiples."
Kenzi is a wife and milfs, and here's something that surprises us:
"The people that know me in my vanilla life would be very surprised to see me here," she said. "I come off as innocent and naive to people I work with and acquaintances."
That's stiff to believe because, to us, Kenzi comes across as so skanky, so cock-loving. Plus, she's got that body with those big, fake tits and pierced nipples.
Maybe the people who think they know her really don't know her.