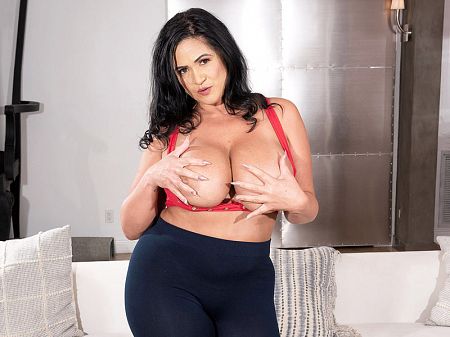 Wearing tight-fitting stretch pants that her 46 inches of ass and luscious thighs are stretching to the limit, 47-year-old divorcee and mom Kailani Kai is back to show us what got her here in the first place (those curves, those hips) and what made us bring her back (those big tits, much bigger than they were the first time she modeled for us in 2019).
"Shooting for 40Somethingmag makes me so horny," she said.
Kailani shooting for us makes us horny. She hops onto the couch, takes off her clothes, spreads her legs, gets on all fours, plays with her tits and sucks and fucks some of her favorite toys. Kailani definitely knows how to put on a show.
40Somethingmag: Have you watched the scenes you shot for us?
Kailani: Yes. I watched them with a boyfriend.
40Somethingmag: What did you think about them?
Kailani: I thought they came out better than I was expecting. He loved them.
40Somethingmag: Have you had sex while watching your scenes?
Kailani: No, but I plan to.
40Somethingmag: Has shooting them changed you at all?
Kailani: Yes. I have learned a lot about how to pose and act and look good for the camera.
40Somethingmag: If time were frozen for 24 hours, what would you do?
Kailani: I would be in Tahiti making love to my man on the beach, listening to the sound of the ocean and watching the sunset.
40Somethingmag: What makes you extra horny?
Kailani: Kissing. He has to be a good kisser. Playing with or caressing my tits. Rubbing my pussy. Feeling a guy's hard-on through his pants.
40Somethingmag: What do you consider your biggest asset mentally?
Kailani: I am very business-oriented and always trying to think of ways to better myself and my business and become more successful at what I do.
40Somethingmag: And physically?
Kailani: I love my smile and my boobs.