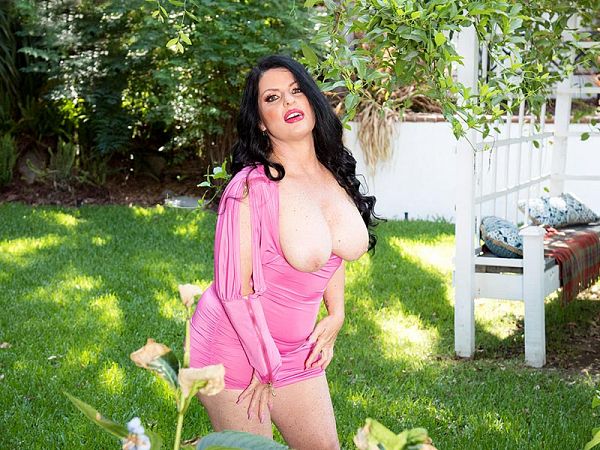 Formerly known as Jade Steele, now calling herself Ivy Ices, this 48-year-old mom has done a lot at 40SomethingMag.com. More than most everyday moms do. She's sucked cock. She's fucked. She even fucked her step-son. She's eaten cum.
But today, Ivy is going to do something that's a bit of a rarity at our MILF sites.
When this scene opens, she's wearing a tight, tight skirt that hugs her voluptuous body. She's walking around her backyard.
"Welcome to my garden," Ivy says. "Isn't it gorgeous?"
She must be talking about her ass. Or her tits. Or her face. The garden? Didn't notice it.
Ivy licks her tits and she asks us, "Do you want to watch me pee?"
Damn right we do!
So she walks out to the lawn, crouches and lets loose with a stream of pee. Like we said, that's something we don't see much of at this website.
"I like to have fun in front of the camera," Ivy said.
When she's done peeing, Ivy finds a bench to lie down on. She spreads her legs, shows off her pussy and big, soft, round ass and gets herself off. That's something we do see a lot of at 40SomethingMag.com. But you know what? We never get tired of it.