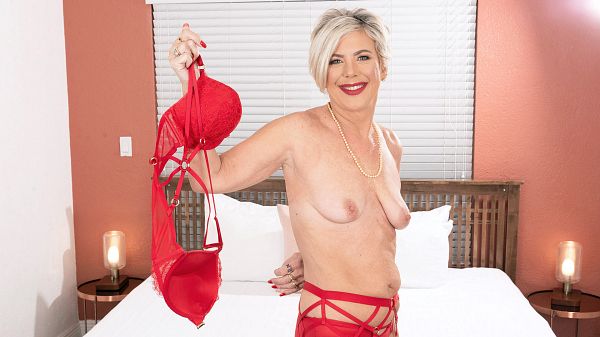 In her return to 50PlusMILFs.com, 55-year-old divorcee and MILF Constance Joy shows off her beautiful body, gets naked and uses her fingers and a toy to get off. The fingers go inside her pussy. The toy goes on her clit. It's a good combination for this horny OLDER.
50Plus MILFs: What are your fantasies?
Constance: I've lived out most of my fantasies. Of course, having two males around all the time would be a great fantasy. Not just sexually but all the time. I've had more of my fantasies come true in the last year than I ever anticipated.
50Plus MILFs: Would you say you've always been sexual?
Constance: Yes. It became more prevalent in my 40s, when I realized what I wanted and what makes me feel good and it was okay to enjoy it and ask for what you want whereas sometimes when you're younger, you take what they have to give.
50Plus MILFs: What do you want?
Constance: I want a good, hard pump. I like being paid attention to. I don't ever want to feel like they're out of the room when they're still with me. My favorite position is doggy style with my hair pulled. Just the back of the nape. Not too stiff, not too soft, just in the right spot, and I also have a special spot right on the back of my neck. I actually have a tattoo next to the spot that's almost like an external clitoris and just from the right touch and stimulation, I can actually cum without any penetration.
50Plus MILFs: What if a person just brushes past you and accidentally touches that spot?
Constance: I just shiver. It has happened, like when I have my hair cut. I tell my gentleman friend or my woman friend where it is, and if they can't find it, we have a problem.
50Plus MILFs: As in, "You can go home now."
Constance: [Laughs] That's the problem! Next! You can just hold me and kiss me and I'll jizz. It's an awesome spot. It's more of the kisses than just the touch.
50Plus MILFs: Lights on or lights off?
Constance: On! I like to see the spunk on me when they cum on my belly. I just like it! I like jizz! I like rubbing it on me and stuff. I'd rather have it on me than in me. I'll tell him to sperm on me.