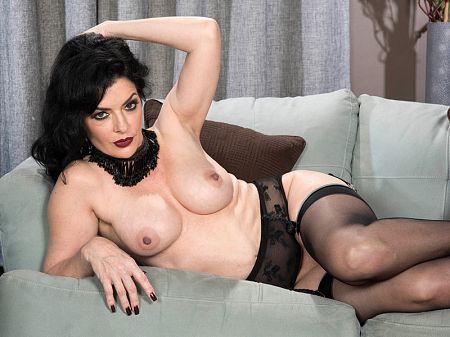 "The only reason I didn't get into this earlier was because I was worried about my family, but I'm too old to be worried about what my parents think," said Natalie Lorenz, a dark-haired, 49-year-old cougar who divides her time between California and New York.
Looking kinky and enticing in a black dress, leather jacket and stockings, Natalie has a beautiful face and a very hot body.
"I never walk around topless or naked," she said. "I'm not an exhibitionist. Before this, nobody had ever even videotaped me, not even a boyfriend. I don't know if I could've done this in my 20s. I was very self-conscious about being sexual. It wasn't easy. It wasn't how it should be. I became more and more uninhibited."
She's definitely uninhibited here as she talks dirty, telling you how she wants you to fuck her, rubbing her ass and playing with her very pink pussy. This is a hot, sensual scene. Natalie wants to get herself off and you off.
"I like getting older," she said. "In my 20s, I had a lot of self-judgment. I was more repressed. As you get older, all that starts to fall away. You become more relaxed in your own skin. You're able to speak up and say what you want and what you don't want. I just like getting older."
And better.