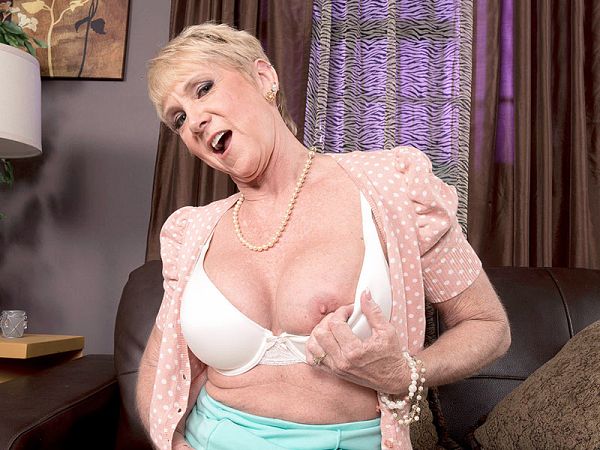 "I love sex, and it's all about having fun," 58-year-old wife, mother and grandmother Honey Ray said. "I'm a giver and a pleaser, so I love making people feel good."
Today, Honey Ray is making herself feel good, and by doing so, she's going to make you feel good, too. She fucks herself with a big, clear, ribbed dildo and makes her pussy and ass gape.
"I don't think I've slowed down one bit. I enjoy sex now more than ever," said Honey Ray, who was 53 years old when she fucked on-camera for us for the first time.
Honey Ray's kids found out what she's been doing in our studio, but if you think that stopped her from coming back, you don't know Honey.
"I said to them, 'Do you think I've changed in the last 10 years?' They said, 'No.' I said, 'Am I the same person I always was?' They said, 'Yes.' So I said, 'Well, then you have nothing to worry about.' I'm going to keep doing what I've been doing."
Honey Ray once told us, "My dream fuck is with a 35- to 40-year-old man who has an eight-inch cock. We're in a log cabin during the winter, there's snow outside and we're fucking in front of the fire. It sounds romantic, right? Maybe so, but in my mind, it's filthy. I'm sucking his cock real sloppily and then tonguing his asshole, and he's got his finger buried up my ass while he fucks me. And when he's eating me out, I've got a dildo in my pussy while he tongues my clit."
Her kids probably don't need to know about that.