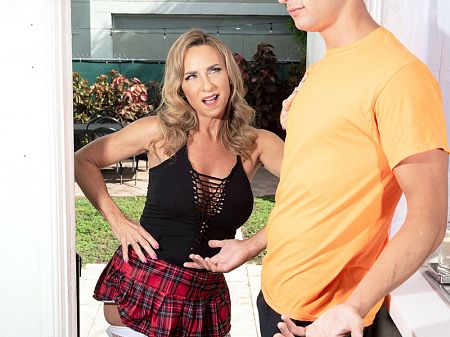 As The Rolling Stones once said, "You can't always get what you want. But if you try sometimes, you might find, you get what you need."
Milan, the guy in this scene, thinks he knows what he wants. He calls his favorite escort service and says, "I would like to have a young girl, like a schoolgirl, plaid skirt, white stockings and really important, I would like that she doesn't have big boobs. I want her to be flat. No boobs."
That's what he thinks he wants, so when Kenzi Foxx shows up at his door, he's disappointed. She's definitely not a young girl. She's 50 years old. And although she's dressed like a schoolgirl–plaid skirt, white stockings–she isn't flat. She has big, fake tits.
"You ordered a schoolgirl?" Kenzi says.
"Well, yeah," Milan says. "You don't look like a schoolgirl. You look old enough to be my mother. And those boobs…they're huge! I asked for a flat girl!"
Kenzi pushes him inside. "I'm going to give you the fuck of your life," she tells him, "and if you don't like it, you can tell my boss. You've never had a woman like me."
She proceeds to choke on his cock, taking it all the way down her throat. They 69 and he fucks her face, too. She fucks him hard in positions young girls have never even imagined. Then, when she's been thoroughly fucked, she says, "I want your cum all over me. I want to eat it."
So, although Milan doesn't get what he wants, it turns out he didn't know what he wanted. And he definitely got what he needed. As did Kenzi.