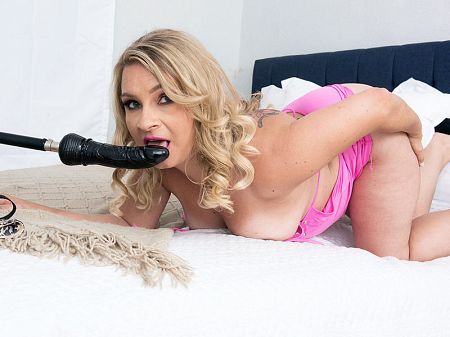 "Let me introduce you to my little friend," 42-year-old wife and mom Dakota Madisin says at the start of this scene, paraphrasing Al Pacino's character in the movie Scarface. But Dakota's little friend is a fuck machine! "I use it when I don't have anyone available. I'm going to demonstrate some things for you," she says.
She licks the shaft and sucks the dildo that's attached to the machine. Then she uses it to fuck her pussy. The machine does her hard and fast.
"You're making me cum!" Dakota screams.
Now, don't get her wrong: Dakota prefers the real thing.
"I was a hairstylist for 16 years, so I'm a people person," said Dakota, who lives in Ohio. "I loved doing hair. It makes me feel good to help others feel better about themselves."
Dakota does suck and fuck real cock here at 40SomethingMag.com. But there's something very hot about a real woman-next-door like Dakota using a contraption like a fuck machine to satisfy herself.
Dakota is short and horny at 4'11" tall. She enjoys listening to rock/glam metal and country music. Her perfect date is "a nice dinner at a seafood restaurant or steakhouse and then head to a concert or even a movie."
As for the people back home and what she's doing here, she said, "I would definitely lose family members if they found out."
Her secret is safe with us.