From Australia, Jilly Smith's first fuck scene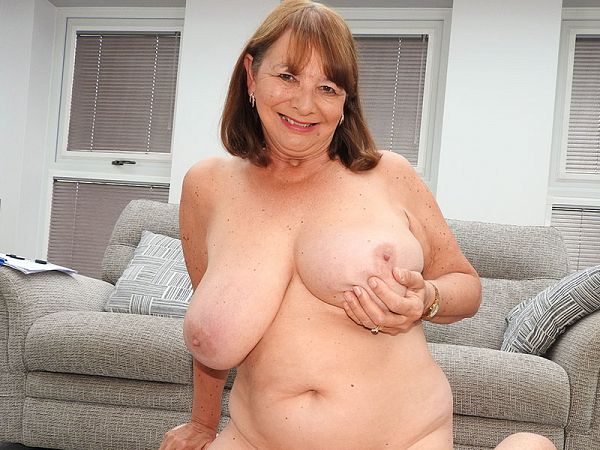 "My friends would be very surprised to see me here," said Jilly Smith, a 67-year-old wife who was born in England and now lives with her husband in Perth, Australia. "They think I am a regular housewife."
Well, most regular housewives don't do this, at least not for all the world to see. Stuck in quarantine down in Australia like most of us around the world, Jilly and her hubby shot this scene for 60PlusMILFs.com. First, Mrs. Smith shows off her voluptuous body and natural, G-cup tits, then she lies back and pleasures herself with a toy. But she needs more, so when her husband shows up, he joins in on the fun. Jilly sucks his dick and gets fucked every which way–on the floor and the couch–before he cums on her tits.
Jilly used to be an exotic dancer. She's also been a midwife. She told us, "I like to travel and spend time naked." She envisions her perfect evening as "red wine, a good meal and good sex. I love a nice, hard cock.
"I also like to be tied up and blindfolded. My fantasy is to be tied up and blindfolded and left to a stranger to do what he wants with me."
Jilly is thrilled to be a 60Plus MILF. We don't get a lot of women from Australia.
"It turns me on knowing I'm being watched."