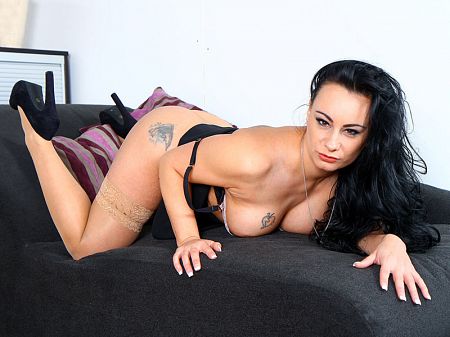 Eva May, a 40-year-old MILF from the UK, is a short 'n' sexy teacher wearing a tight sweater, short skirt and stockings. She shows us her legs and ass before she gets to work with the student she's been tutoring.
"How's your extra study going today?" she asks him.
"It's not going too well," Kane says. "I'm still not getting it, Miss."
"What are we gonna do with you?"
"I'm trying," he says.
"Well, why don't you start focusing on something else today?"
Something else?
"Why don't you bend me over this desk?" she says.
Beats studying!
Before being bent over the desk, Eva May sucks his cock. And then he bends her over the desk and fucks her pierced, shaved, very pink pussy from behind, giving it to her hard. He takes a break from fucking to eat her pussy, sending her over the edge, and fucks her on the desk some more. Eva can't get enough of his cock, so she sucks her pussy juices off of it. She rides him hard and he cums in her mouth, messing up her sweater, too. Eva finishes him off by sucking the excess cum off his knob.
Did this help Kane with his studies? Is he any smarter than he was before? Well, possibly. It has been shown that having too much cum in your balls can lead to difficulty concentrating. Now that Eva May has emptied his balls, he's probably a genius.