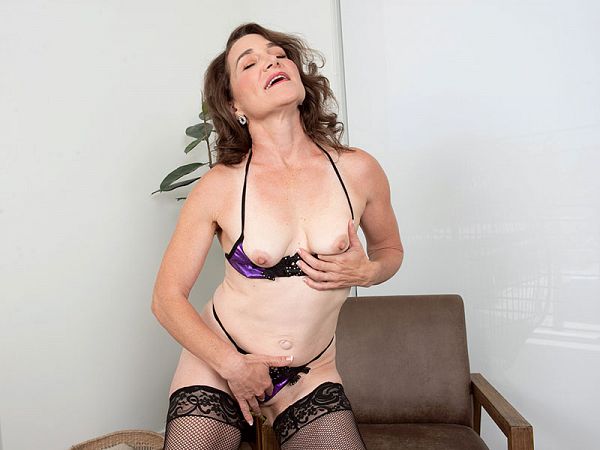 "I love to show off my body," said Carrie Anne, a 47-year-old mom from Kentucky.
She does that here. Carrie, who has a cute little body, is wearing very little: a purple bra that barely covers her nipples, thong panties and stockings. We get to see her spreading her pussy and ass and deep-fingering her tight, well-fucked cunt (the same cunt that has been fucked twice at 40SomethingMag.com).
"I came across your website while looking for modeling jobs for those with not a lot of experience," she said. "I'm so glad I did!"
So are we.
Most-fun job Carrie has ever had: "Working as a receptionist in my dentist's office."
Hobbies: "Reading articles about healthy eating, working in my yard and gardening."
Masturbation? "I love to do it at least once a week."
What sexually satisfies her best? "Knowing that I've made my man feel loved and pleasured."
"I like to dress casual, like an everyday soccer mom. I love to go out dancing. I love to be tied up and submit to handsome men."
She loved coming to 40SomethingMag.com. Show her some love, fellas.