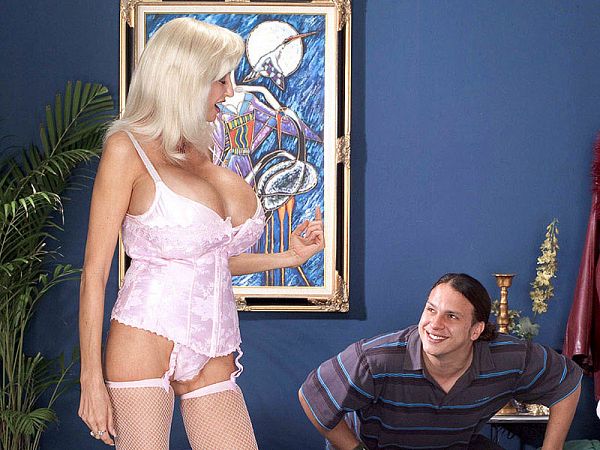 "I love fucking in front of the camera," 51-year-old, huge-titted Dee Dee Deluxx said. "I love the idea of men jacking off while they watch me fuck. I like the idea of a circle jerk. Lots of guys jerking off on me, shooting their gooey cum all over my big tits. Hey, I don't have these big tits just for looks, fellas. I want you to enjoy them. I want you to tell me what your fantasy is. I'll fulfill it."
Today, in a classic scene that has never appeared on any of our mature websites, Dee Dee fucks her fuck buddy, Anthony. He was hiding under the bed all night while Dee Dee was having sex with her husband. But in the morning, Dee Dee sends her hubby off to work, and now it's Anthony's turn. Dee Dee stuffs her SCORE-sized tits in his face. She sucks his cock then he fucks her tits. Dee Dee's rack is so big, the fucking is really just a prelude to Anthony shooting his load all over it.
"I've made an art form out of titty-fucking. I love being titty-fucked," Dee Dee said. "I'm into cock and ball worship. I'll fill my mouth with balls like a guy sucks on a nipple. I'm not into girls although everyone wishes I was."
Dee Dee was known as Malibu Slick before she changed her name. She used to visit the Exotic Dancer Expo and hang out with her fellow mega-busters, although few were as busty as she was.
We asked Anthony about fucking Dee Dee, and he said, "Dee Dee's pussy was really tight, like an 18-year-old's. I was impressed. She was wet from the start. She didn't need any lube. My fucking cock felt great between her boobs."
Can you believe this guy got paid for this?