Cammille Austin and a toy named George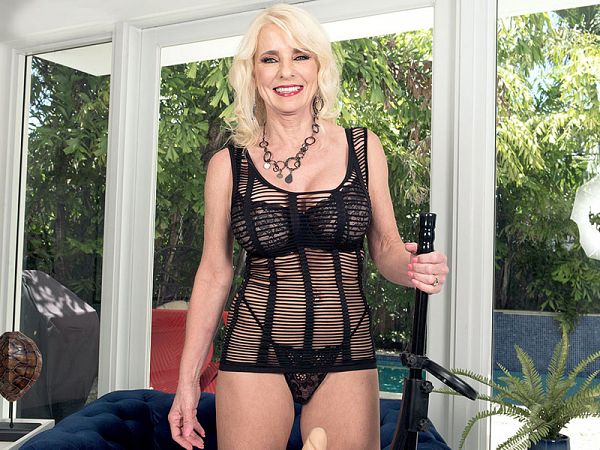 "I'm sure you're wondering what this is," 60-year-old wife, mother and granny Cammille Austin says. "This is a little toy that my husband bought for me. I call him George. He's quite useful, especially if your husband's gone and you're lonely. He works very, very good."
She puts him aside, and when she does so, she turns and bends over to give us a nice view of her sexy little ass.
"I'm here to show you me," Cammille says. "I want to show you how my tits look. I want you to imagine how they feel."
They look very nice. They're big, round, fake tits with pierced nipples. Cammille takes off her bra and tugs on her nips by the piercings. She reaches down to show you her pussy, which is also pierced (and shaved). She bends over and spreads her ass, giving us a peek at her butthole. At this point, her panties are down around her thighs, then she takes them all the way off and lies down on the couch.
And here comes George! Cammille licks George and puts him under her so she can bounce on top of him. George is one lucky toy! Check out how Camille uses the handle on her funky contraption to fuck her cunt as deeply as possible. She cums a few times and turns around so George can fuck her from behind, and she slaps her ass the way a real man named George would. She cums again and again, but is she finished?
Nope! Camille wants to cum some more, so she spreads her legs and fucks herself with George.
If there's an afterlife, we want to come back as George.