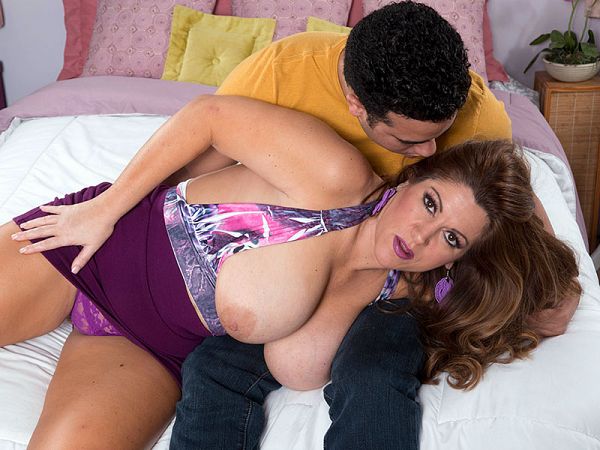 "When I was growing up, I never thought about my boobs," said Janessa Loren, a 44-year-old, huge-breasted hottie from New York City. "But as I grew up and saw movies, pictures and whatever else, I realized one day that they were pretty awesome to have. So now I really like my boobs. I love my body now."
It's obvious that Rocky loves her body, too. He's the 24-year-old dude who's sucking Janessa's G-cup naturals and getting smothered by them. He gets to fuck them, too. And, of course, Janessa swallows his rod and takes it deep inside her pussy before he (no surprise here) cums on her tits.
"The guys who are attracted to me are boob guys," Janessa said. "I don't have to tell them to play with my boobs or suck them. They don't need directions or introductions. They just do it."
Janessa has sex at least three times a week. Her favorite position is doggy style: tits hanging, hard cock banging her deep. She enjoys passionate kissing and touching. She's had sex on a beach in Miami and Puerto Rico. And now she's had sex for all the world to see but only for The SCORE Group.
Living in New York, Janessa gets plenty of attention when she walks down the street, especially past construction sites. Wolf whistles, cries of "Nice tits!" and guys so distracted that they walk into poles are routine while she's walking. And can you imagine rubbing up against her in a crowded subway?
"I would say I'm a sexy secretary, but I'm around women all day and I don't get to dress sexy," she said.
We fixed that when she visited our studio.