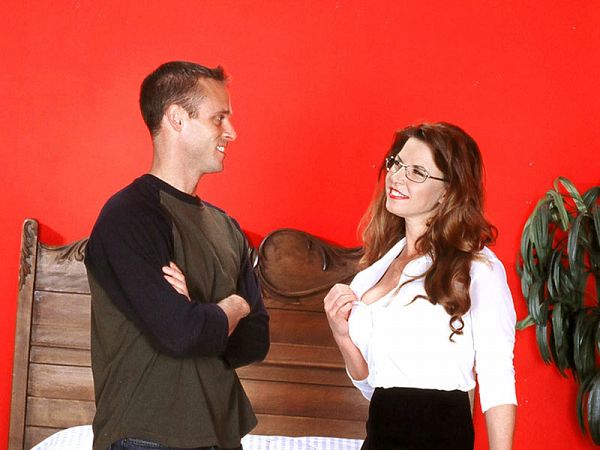 In this blast from the past, remastered and streaming for the first time on 40SomethingMag.com, long-time porn star Selena Steele (she fucked on-camera for over 20 years) sucks and fucks her son's former high school buddy. Selena is a realtor wearing a sheer, button-down shirt, a short skirt that's slit up the side and eyeglasses. She looks sexy dressed and even sexier naked. Selena has a hairy pussy that Matt cums all over.
"People don't think I look my age, and I don't usually tell them right away, either," Selena said. "But if I bring a guy or girl home from a bar and then blow his or her mind during sex, I'll say, 'What did you expect, honey? I'm 41!' I don't know if dressing up in things like garters and bodices is actually a fetish in the strict sense of the word, but I take my sex seriously, and I like to make it special."
Selena was actually 42 when this scene was shot, so she'd be 59 right now. We wonder where she is today? Probably somewhere fucking young guys.