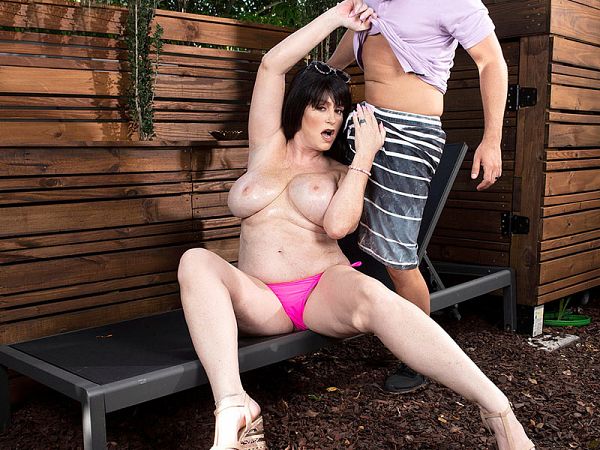 Sherry Stunns, 51, is sunbathing by her pool, wearing a bikini that her big tits are popping out of, when she hears someone coming. She adjusts her top and sees that it's only her step-son.
"Oh, hi, Nicky," Sherry says. "How was school today?"
"It was a great day," he says. "Where's Dad? He's out?"
"He'll be out for a little while. He's doing his thing."
Nicky says he's going to go do some homework, but first, Sherry has a favor to ask him.
"I can't reach my back and I don't want to get burned," she says.
"I'm not sure this is something I should be doing," he says.
"C'mon," she insists. "I'm your new step-mom."
So he relents. He rubs oil into her back and massages her shoulders.
But then she asks him to put oil on her tits. She actually uses the word "tits." Not breasts. Not chest. "Tits."
"What?" he says, understandably surprised. After all, it's not every day that your busty step-mom asks you to rub oil into her "tits."
"They're only tits," she says.
Only tits? Those are some big "only tits." He's hesitant, so she takes his hand into her own hand and has him rub oil into her chest. Is this something a step-son should be doing to his step-mom? It is if the step-mom is a hottie like Sherry.
Well, you know what this leads to. Sherry takes out his cock and starts sucking it. Heck, it's already hard so why shouldn't she?
Well, because she's his step-mom? Is that a good enough reason?
Apparently not. Sherry takes him inside, where she sucks him some more and lets him fuck not only her pussy but her ass, too.
And that's the story of this episode of 50Plus MILFs All In The Family.