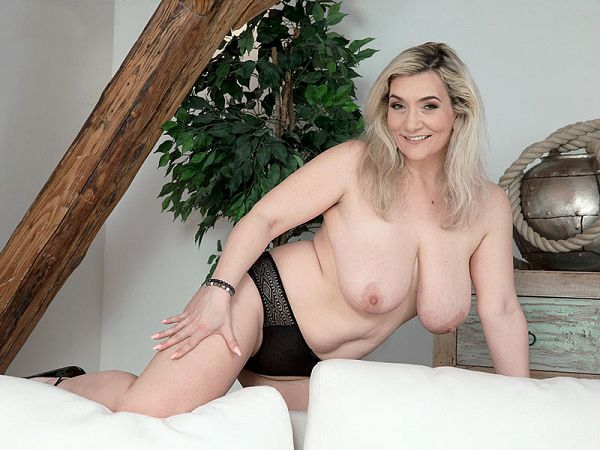 Her name is Sandy. She calls herself Sandy BigBoobs. She chose her stage name wisely. This stacked German frau is a natural E-cupper.
"I looked around on the 40SomethingMag.com home page," she said. "Then came my desire to become a model for you and to shoot with you."
The feeling was mutual. When we saw her test photos, we knew we had to shoot her.
Today, we get close-up views of Sandy's big tits swaying and bopping in slow motion. Of course, she eventually lies back and gets herself off, but this video will be of special interest to you big-boob lovers out there.
"I hope you like what you see," said Sandy, who's 46 years old.
Sandy is married and has two children. She has been a trained medical assistant for several years. She's also been an airport security officer and a nail designer. She's a swinger and described to us her kinkiest experience.
"I was able to gain experience with a woman for the first time. To be with her felt extremely tingling and exciting and I will never forget that. The way she gave me oral sex was like no other. I had three intense orgasms."
Sandy has also had three-ways with two men.
"That was very exciting for me. It's so nice to have two cocks to please you and two men to adore your body. In the end, one came in my mouth and the other came on my tits.
"I'm a MILF. I have two children. I love making videos and photos. This is the most-fun thing I have ever done. The people who know me would be surprised to see me here. I only told my family and dearest friends that I would shoot with you. That will be a nice surprise for all the others."