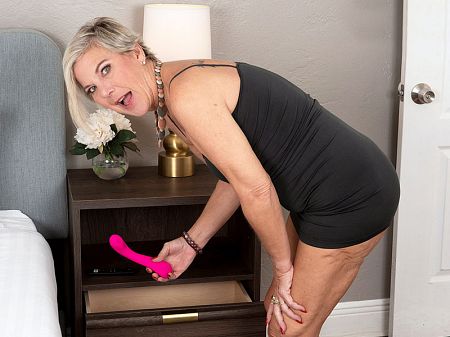 Now 55 years old, divorcee and mature Constance Joy is back for a brand-new scene. It starts with her doing some housework. She goes to her daughter's room to straighten up, and when she looks in her daughter's drawer, what does she find? A big dildo!
"I never knew my daughter liked such big cocks," Constance says, licking and sucking it. "I'm going to have to try this."
She rubs the toy against her tits then lies back on her daughter's bed and nails herself. Hmmm…what if Constance's daughter finds Mom's pussy juice stains in her bed? Better change those sheets, Constance.
Later this week, Constance is going to get the reallife thing. She's going to suck and pump a dude who's 32 years younger than her.
We asked Constance the oldschool question: length or girth?
"Girth," she said. "With girth, you feel it on the sides and it hits more spots. When it's more narrow, it's not hitting the sides as much and going up towards your belly button, and what's up there? Nothing. But it depends on how he uses it, too."
In other words, if you don't know how to drive a Corvette, it may as well be a Corolla.
Constance has had a lot of jobs.
"I worked for a school system in Michigan. I was in property management. I was a foster mother. I was a caregiver to my parents, so for a lot of my life, I was caring for others, and now it's time for me to take care of me."
She's doing that, but when you think about it, she's taking care of us, too, isn't she?