The Exotic Art Of Belly Dancing, Cock Sucking And Dick Tugging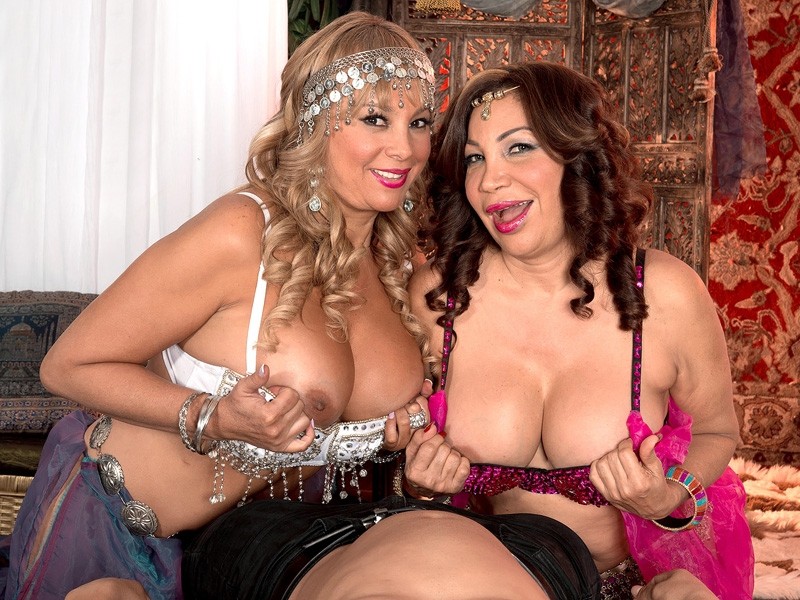 Have you ever heard of topless belly dancers who suck and tug cock? In all honesty, we never have. But that's what fantasies are all about. That's why we have Sandra Martines and Marcella Guerra, two real-life belly dancers, dancing to get you hard, then showing off their tits, then doing their thing with a hard cock. Sandra sucks and tugs it. Marcella tugs it. Both are big-titted Latinas who definitely know how to get a man off. And when this guy gets off, it's on both of their racks.
Sandra is 56 years old. She's divorced. She was born in Arizona and lives in Central Florida. Marcella is 51 years old and divorced. She was born in Colombia and lives in Central Florida. Funny how these things work out: They were both in our studio on the same day. They hit it off immediately. We knew Marcella was a belly dancer but we didn't know that Sandra was, too. This scene was supposed to be Sandra with a guy. But then, your MILFTugs.com editor had a brilliant idea: two Latina belly dancers, one cock. Turn 'em loose!
Funny how some of our best ideas spring from hard-ons.