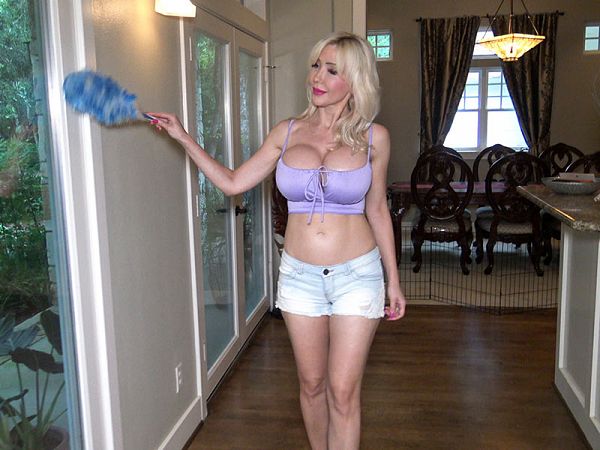 This scene opens with a guy jacking off to one of Victoria Lobov's XXX videos.
What?
She's getting pounded, he's pounding his pud, and at this point, you might be thinking, "Why are we watching a guy jack off?"
But don't worry. That only lasts for a few seconds, because next we see Victoria herself, 48 years old, blonde, big-titted and looking especially fuckable in a tiny midriff-revealing top that shows off her rack and short shorts. She's doing housework, doing a little dusting here, a little dusting there, when she looks in on…her husband! He's the guy who's jacking off to Victoria fucking on-camera. Yep, he's Victoria's hubby, and yet he still jacks to her videos.
Can't say we blame him.
But Victoria doesn't know that just yet. She just sees her hubby jacking off to Internet porn, probably to some strange chick, and she's not happy about it.
"What are you doing?" she asks him in her babydoll, bedroom voice. "I'm cleaning the house and all you're doing is jacking off to porn?"
"But honey…" he says.
And then she realizes he's jacking off to her porn, and, naturally, she's flattered, so flattered that she gets on her knees and starts sucking his cock. Suddenly, he's not watching Victoria on video anymore. He's experiencing the real deal.
By the way, the guy in the scene is Victoria's actual husband and the house is their actual house in Texas. Some guys have all the luck.