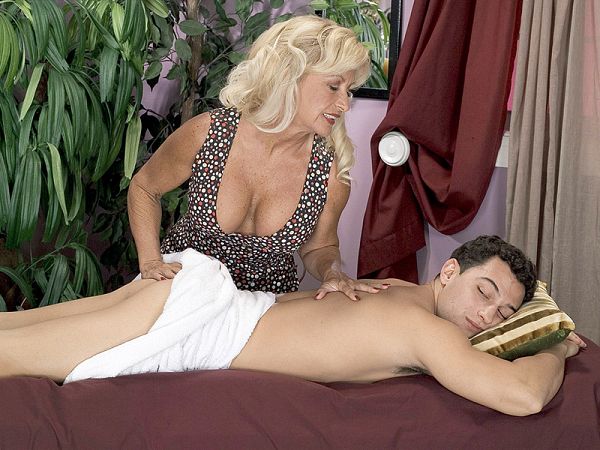 It is a masseuse's job to loosen up your muscles, not tighten them and make them hard, as 55-year-old Julia Butt does to 24-year-old Mike's cock in this classic scene, which has never appeared on 50PlusMILFs.com. When it comes to relieving stress, Julia is great at her job. She jacks the cock, sucks it, sits on top of it and drains her client of all the stress he has built up over a long, hard day at work. So, yes, Julia makes certain muscles harder. But that's because she's a different kind of masseuse.
"I once did a male friend of our 18-year-old son," said Julia, who by "our" means she and her husband. Yeah, she's married. Yeah, she fucks other guys. And get this about the male friend of her 18-year-old son…
"I did him for his 18th birthday," Julia said. "It was like a birthday present. I'd done his father many times before. Doing the kid was his father's idea."
Obviously, Julia loves to fuck. She said her fantasy is to be "on a deserted island with several well-hung guys."
Considering Julia's beautiful face and 36D-26-36 body, they'd be walking around with hard-ons all day.