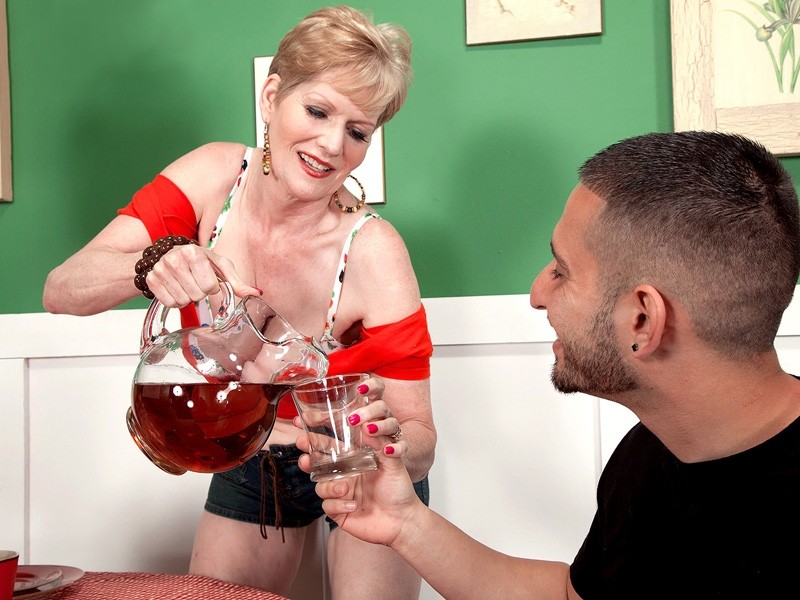 Busty, sexy and married, Sindee Dix, who's 52 and from Florida (born in California), makes her on-camera tugging and sucking debut for your viewing and jacking pleasure. Sindee is part of the growing number of mature webcam models, so she's used to showing her D-cup tits and pretty pussy on-camera, but this is a big step for her, one she took with her hubby sitting just a few feet away, watching approvingly.
"I am an exhibitionist and so I embrace other people's fetishes because it feeds back into my exhibitionism," Sindee said. "If a guy loves my feet, I get off because I'm showing my feet. If a guy is into seeing me wear a type of clothing like leather, then I'm thrilled because I'm showing off my leather."
And if a guy is into seeing her suck cock?
"That's exhilirating!" Sindee said.
Sindee is a swinger and a nudist. She's into creative writing, cooking, exercising, dancing and studying foreign languages. We asked her if people would be surprised to see her here, and she said, "Over the past couple of years, the people who are in my inner circle know that I'm a webcam performer, so they probably wouldn't be shocked that I would do this too. But there are a few people who have no idea about my other life, and if their surprise leads them to de-friend me, they really weren't friends to start with."
We agree. And just look at Sindee with a mouthful of cock and cum all over her beautiful tits. Who could have a problem with that?