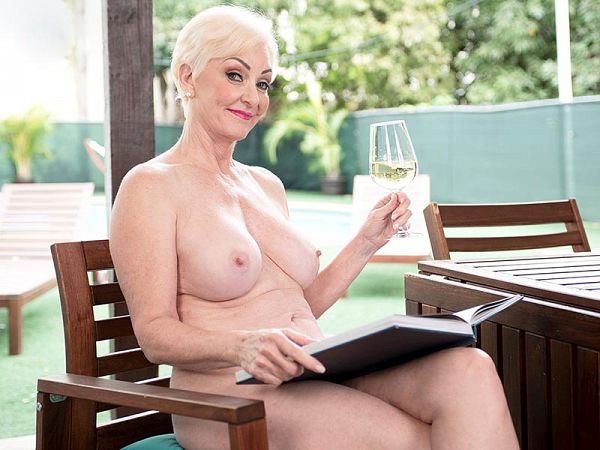 What's 64-year-old wife, mother and granny Seka Black wearing in this scene?
Zilch. Nada. Nothing. She's 100% naked (not even shoes) from the get-go. Mrs. Black is enjoying a beautiful day by her pool. She plays with her big tits. She lies back and deep-fingers her pussy. Then she turns around to give us a nice view of her broad, fuckable ass.
Seka is special. She's beautiful. She has a smokin' bod with big tits and a nice, round, fuckable ass. She's the epitome of a 60Plus MILF, the kind of woman we're always looking for.
60Plus MILFs: There was a famous porn star in the '70s and '80s named Seka. She was one of the all-time greats.
Seka: Yes, I named myself after her. I had seen her on the porn sites, and my husband pointed her out to me a couple of times and I noticed that we looked very similar, but she had retired, and I started this, and I thought, 'I love the name and I love the actress,' so I went with Seka.
60Plus MILFs: So, you used to be a…
Seka: Stripper. I thought it would be a great experience to find out what it would be like to be a stripper, and it was fun.
60Plus MILFs: How old were you when you started stripping and where did you dance?
Seka: I was about 45 years old then, and I danced in Fort Lauderdale at Pure Platinum.
60Plus MILFs: For how long did you dance?
Seka: About a year. I loved it. It was one of the best experiences of my life. I loved being the center of attention. I loved the excitement of teasing and turning on men, especially black men.
60Plus MILFs: Was your clientele similar to the other girls'?
Seka: Similar, but surprisingly, there were a lot of younger guys, too, who wanted to get dances from me. They loved the way I had my own technique of stripping. The other girls didn't have as much clothing on. I love garter belts and stockings. The other girls weren't doing that so much, so it was a turn-on for the younger guys to see a woman like me dressed in sexy outfits.
60Plus MILFs: The first time you gave a lapdance to a 21-year-old guy, were you surprised that he wanted you rather than a younger girl?
Seka: No, not at all. Sex is sex. It doesn't matter what age you are. When I was dancing up there, I could tell that the way I danced was a turn-on for them. I could see it in their eyes and the way they moved closer to the stage when I was up there. There were some women who were there mainly for the money. I was there for fun. And I guess the guys could tell I was there for the fun because they liked me a lot.
60Plus MILFs: What was fun about it for you?
Seka: The exhibitionism and also the hotter play when we were one-on-one. I liked giving lapdances. I liked the contact and the excitement and seeing the look of pleasure in the man's eyes. It was all a turn-on for me.