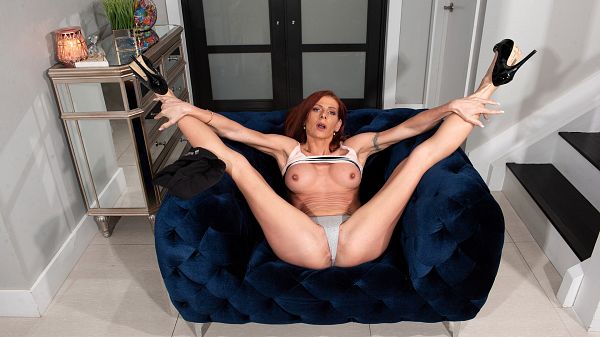 When this video opens, 42-year-old Gabby Lamb is wearing a tight petite workout outfit that shows off her super-tight body. She says she's here to tell us how she stays healthy and fit, but there's not much stretching and exercising going on in this scene…unless you count the way Gabby uses her big, purple toy to exercise her pussy. And you could say there is some stretching because Gabby spreads her long, shapely legs very wide while she's pumping herself.
"I danced for quite a while," said Gabby, who lives in Chicago, is a mom and describes herself as happily divorced. "When I was younger, I used to sneak out and go to the clubs, and eventually they started paying me to show up and I started doing exotic dancing. I did that for quite a while, and when I got experienced, I did very well as an older woman dancing. Young guys loved me."
Gabby was a gymnast when she was younger and has also been a competitive pole-dancer.
"I enjoy reading, mostly non-fiction," she said. "I enjoy saltwater fish tanks, wildcrafting, design, art, museums, history and having lots of sex."
Thursday, we'll see this long-haired redhead getting her pussy eaten and sucking penis poolside before taking the show inside for more humping. But today, you have her all to yourself.
Gabby works out every day. "I'd say it's 80% diet, 20% working out. Stretching, cardio. I like to dance for about an hour every morning. I've never been very heavy, even when I was knockedup."
In every way, she's perfect.