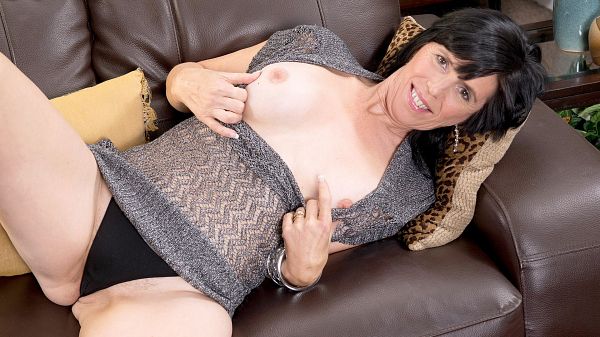 "People who know me would be shocked to see me here," said 57-year-old wife and mom Raven Flight. "Growing up, I was always a tomboy. I was never popular in high school or even in college. I would love for the boys I knew in high school to see me now!"
Maybe they will!
Here, Raven, who's from Colorado, is very horny from the get-go. She's wondering if she's going to have a big cock to screw tonight, but just in case she doesn't–or maybe to warm up that pussy–she's going to take matters into her own hands and fingers.
"Do you want this pussy?" she asks us. It's a fuzzy pussy that she rubs and fingers stiff. She enjoys playing with her big tits, too.
Later, Raven gets on all fours, spreads her asshole, makes it gape then sticks a few fingers inside.
"Are you ready to fuck that butt?" she says. "It needs to be opened up and stretched out. Can you imagine how tight it would feel around your rod."
Yeah, we can imagine, Raven.
Raven is 5'2″ and weighs 123 humps. She trained and showed horses for 35 years. She enjoys hiking, photography, painting, horseback riding, dancing, concerts, traveling, movies and meeting new people. We wonder if she nails all of the new people she meets. It's possible. She is a swinger, after all.
And guess who else, besides you, is going to get off while watching Raven's video?
"I am!" she said.