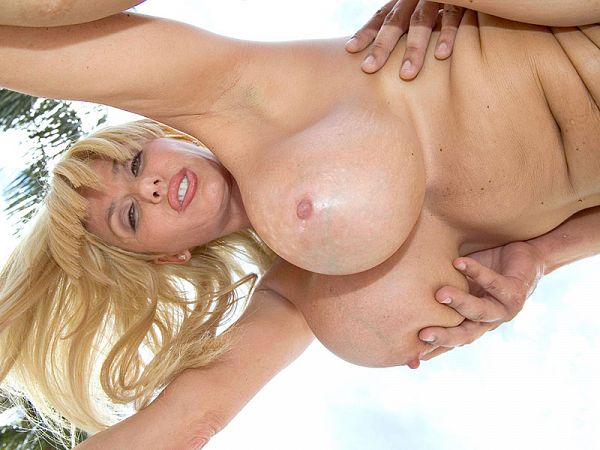 In this remastered scene, now showing on 40SomethingMag.com for the first time, 44-year-old, mega-titted mom Penny Porsche is busting out of a bathing suit. She takes a dip to get her body and those big, fat tits nice and wet, and then Anthony shows up. He goes right for her tits. She goes right for his cock and sucks it in the pool. As her hooters float, she swallows his cock lustily. There's underwater footage, too, something you don't see too often. Then they get out of the pool and fuck poolside, and there are some pretty great shots of Penny's huge tits hanging while she gets banged from behind. By the way, Penny also has one of the biggest clits you'll ever see.
"When I'm on top grinding down while your cock is penetrating me, that really gets me going," Penny said. "And if you fuck me in the missionary position with my legs all the way back by my head, that gets me going, too. I call it the lockdown."
40SomethingMag.com editor Dave said, "Penny squirted for me. She did it at the very end of a video interview I did with her, and I mean the very end. The videographer had gotten so lost in the vision of this huge-titted MILF fingering her pussy–double-fingering it, in fact–that he didn't realize he was running out of tape. And when Penny squirted, his screen went blank, and the literal climax of our interview was lost forever. But I gotta tell you, it's permanently implanted in my mind."
So before you watch this super-hot scene of Penny sucking and fucking our stud, think about this: Penny is sitting on a couch, tits out, panties pulled aside so we can see her pussy, talking about how she can squirt. She has just demonstrated how she can cum by humping a pillow, and now she's working over her pussy, finger on her clit, telling us how her pussy tastes (sweet, by the way). She's rubbing, tasting, rubbing, and then she's reaching inside her pussy, going after her G-spot with her fingers buried deep, and then…a fuckin' geyser.
"People are surprised to find out that I have a life away from the camera," Penny said. "But, of course, I do."
Penny spends much of her free time in her North Hollywood, California home. She shops on Ventura Boulevard in Tarzana. She also loves sipping coffee and people-watching at Starbucks.
"I've never seen a guy spill coffee on himself, but I have gotten some funny reactions when guys notice my chest," Penny said. "I have a hard time hiding my chest, so I get a lot of attention. But this is where I live, so people are used to having me around. I'm just Penny."