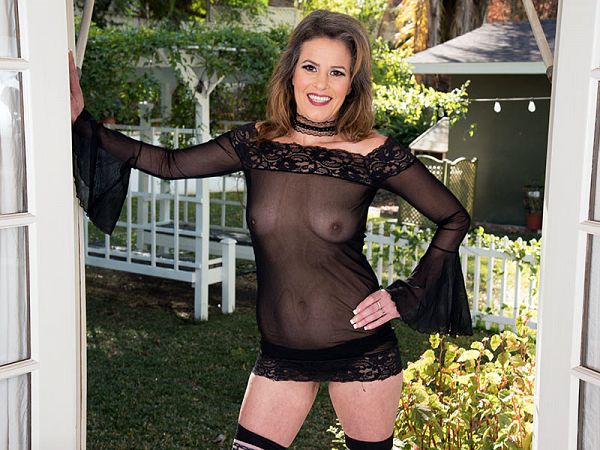 "I like to suck dick," said Payton Parker, a 46-year-old mother of two from Washington, "Of course, I love oral sex. I'm pretty open-minded, so I never say I won't try something because I usually will. I'm pretty comfortable sexually."
We've seen just how comfortable in Payton's two fuck scenes at 40SomethingMag.com. In one of them, she got ass-fucked by a guy who was easily young enough to be her son. But today, we have Payton to ourselves with no man-ass getting in the way. It's just you, Payton and her very pink pussy as she spreads and gets off for your viewing pleasure.
Payton is a pleasure for the eyes. She's beautiful with long, flowing brown hair and a hot body. Today, she's wearing a sheer top that her nipples poke through and sexy stockings. She seems a bit nervous as she talks to our videographer, but that's to be expected. After all, she's not a porn star. She found us on CraigsList.
"People keep telling me I'm sexy, so I thought I should try it," she said. "I've watched some porn, but I didn't know what it was going to be like for me."
Payton describes herself as "pretty low-key." But then again…
"I've been a stripper. I'm pretty wild."
Like the time she went to a movie theater in Oregon with a boyfriend. It was a porn theater. She started sucking her companion's cock, and before she knew it, a crowd had assembled around them.
"He tried to get my pants off, but I was like, 'No way! There are too many guys here.'"
There are plenty of guys here, Payton. And they're all planning to enjoy you.