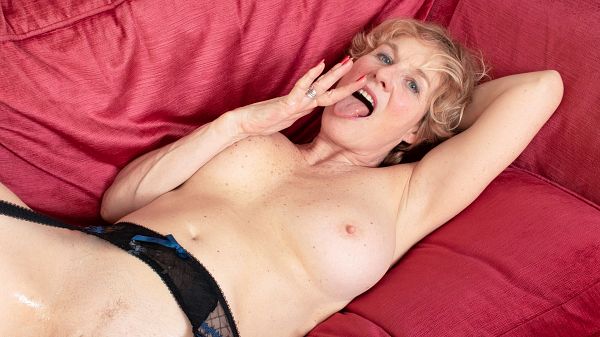 In this brand-new scene, 57-year-old Molly Maracas from London, England, is sitting on a sofa in her home, putting on makeup, when she notices that her step-son is watching her.
"What are you doing there?" she asks. "Are you watching me? Come on in! Don't stand behind the door. How long have you been there, I wonder?"
Where he's standing–where we're standing in this P.O.V. scene–he has a good view down his step-mom's dress of her nice cleavage. But the view is about to get better.
"You often look at me, do you?" she says. "You are a naughty boy. If only your father knew. Well, I won't tell him."
Won't tell him what? That she's going to let him feel her tits? That she's going to suck his dick and pump him? Yep, that sounds about right. It's not the kind of thing a step-mom is supposed to do with her step-son, but it does happen and we have the video!
Molly is divorced. She's a nudist and a swinger.
"People who know me won't be surprised to see me here," she said. "They know I'm adventurous. This is just the kind of thing they'd expect me to do."
Ram her step-son? Okay.