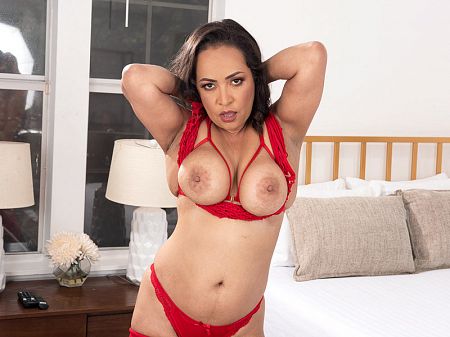 Anna Maria, a 46-year-old mom and self-described "happily married" wife makes her 40SomethingMag.com debut this week. Today, a solo scene. First, she tells us all about herself. Then she shows us her big tits and spankable ass and plays with her pussy while talking dirty. She makes herself cum, too. And tomorrow, Anna Maria sucks and fucks JMac's big cock.
Anna Maria was born in the Dominican Republic and lives in New York. She used to be a stripper, or "exotic dancer," as she likes to call it.
"The people who really know me would not be surprised to see me here," she said. "They know I am a free spirit."
She's a super-sexy free-spirit. Anna Maria has a way about her that needs to be seen to be understood…or felt. She's smoldering.
By the way, about those people who know her: her husband, daughter and brother know she's here. The woman doesn't keep secrets.
Anna Maria's hobbies: "Gardening, arts and crafts and dancing."
Fetishes: "I like to give golden showers and be dominant."
How often she has sex: "At least five times a week."
Kinkiest sexual encounter: "Having sex with a stranger in a dance club."
Tomorrow, she'll have sex with a stranger for all the world to see.