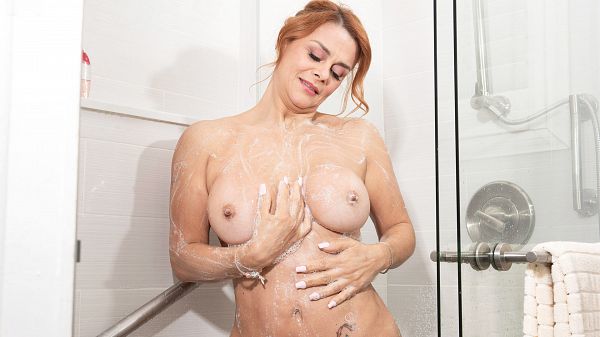 When this scene opens, 54-year-old mom Juliett Russo is sleeping. Sound boring? Not at all. Juliett is wearing lacy lingerie, and when she turns over, we get a nice view of her beautiful, firm, sexy ass in thong panties. Then she turns over again, and we can see that a nipple is popping out, too. Very nice.
Juliett stirs and gets up. Stretches. Runs her hands over her body. Then she goes to the bathroom to take a shower. It's a nice, warm shower, and as Juliett gets wet and soapy, she gets horny, too. She switches the shower head to a high setting and soaks the water on her pussy. Then she gets down on the floor of the shower, spreads her legs and deep-fingers herself until she cums.
It has already been a very nice morning for Juliett, but it's about to get better. Because when she looks up, she sees that her step-son has been watching her.
"Are you watching your step-mom having a shower?" she says, smiling. "Do you want to come in? Do you want to join me?"
He comes in, and what happens next? You'll find out Thursday.