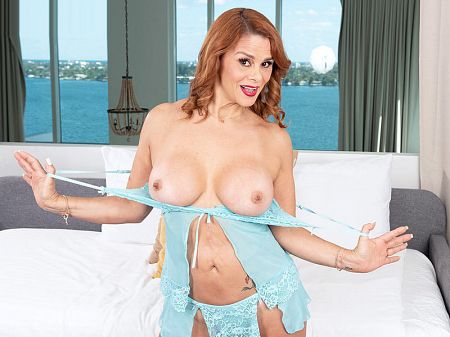 Today, Juliett Russo, a 54-year-old mother and divorcee from Venezuela, is back for her second go-round at 50PlusMILFs.com. The first time, she sucked and rammed and showed off her sexy, curvy body. Today, she is giving you a Spanish lesson, using her body to teach you. You're going to find out how to say words like tits, anus and pussy in Spanish. If you can keep from jacking off long enough, you might learn something, but we doubt you'll be able to keep from jacking off. Hey, members, do your homework! But first watch Juliett suck and tit-fuck a big, thick dildo and stuff it inside her tight, pink Latina snatch.
Later this week, Juliett will have sex with a man who's 31 years younger than her.
Juliett lives in Miami, Florida. She's 5'2″, 128 humps with firm, round, C-cup tits. She's into pole dancing, cooking and baking. She likes humble dudes with a sense of humor. She once had sex in a boat. She's never had sex with another woman. And she's not a swinger or a nudist.
"I'm a teacher," Juliett said. "I worked as a tutor in my home country."
She's also had her own catering company.
When we asked her if the people she knows would be surprised to see her here, she said, "Some people would, some won't because most people say I am a sexy woman and also because I was a model and an actress when I was young. I am a happy woman. Cheerful, fun, outgoing."
And, as it turns out, very educational.