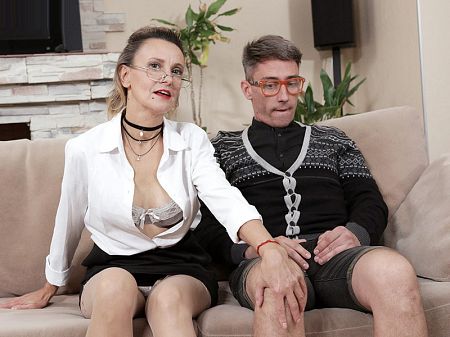 We don't get a lot of Russian MILFs at 50PlusMILFs.com, but we have one today. Her name is Ivanna, and she's a 52-year-old divorcee and mom from Volgograd (formerly Stalingrad), Russia, born way back when there was such a thing as the Soviet Union. In this scene, she's quietly seducing Frankie, who at first isn't quite sure what's going on but finds out soon enough when she unbuttons her top and starts sucking his cock. Ivanna has an old-fashioned hairy pussy that gets fucked hard, and she's treated to a facial.
Ivanna enjoys reading and savoring a glass of wine by a fireplace. She says the people who know her back home, especially her children, would be shocked to see her here. She used to be a swinger. Her sexual fantasy is to have sex on top of a skyscraper. She has sex three or four times a week, more if she can, and she describes herself as sexually passive. But that's not how she is here. She goes right after Frankie's young cock (he's young enough to be her son).
Kinkiest sexual encounter: "Sex with a farmer in a barn."
Sex with younger men?: "Yes, always."
She has eaten pussy and had hers eaten. She has long, thin, shapely legs that, at first, are covered in stockings but quickly come off. Her glasses stay on. Very nice.