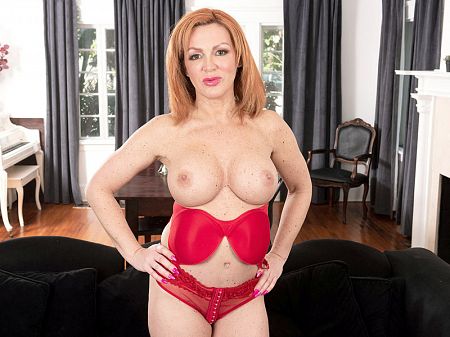 "Would the people I know be surprised to see me here?" said Nina Lakes, a 43-year-old divorcee and mother of two from Atlanta, Georgia. "Yes and no. I used to be a stripper and I have an indecent past."
Indecent meaning very decent. As for her present, Nina, who was born in Ohio, is an escort.
"I see dudes mostly," she said. "They pay me for my time. It depends on what they want. Some men just want to go to dinner. Some want a more-intimate connection. It just depends."
This week, for much less than the price of a session with Nina, you're getting the intimate connection. Today, Nina shows off her hot body and makes herself cum on-camera for the first time. And Thursday, not only will she screw on-camera for the first time; she's going to get nailed in her pretty small butt.
By the way, you know the old saying about divorcees being hot to trot? Nina got divorced last April, started escorting in May and came to Miami, Florida to shoot for us just last week. She isn't wasting any time.
We asked Nina if she's ever been called a EXPERIENCED.
"Yes," she said, "and I never knew what it was for the longest time. I eventually caught on. I had to ask someone."
She's noticing that dudes like her more the older she gets.
"I love it. Forty is the new 20."
It is when the 40something woman looks like Nina.