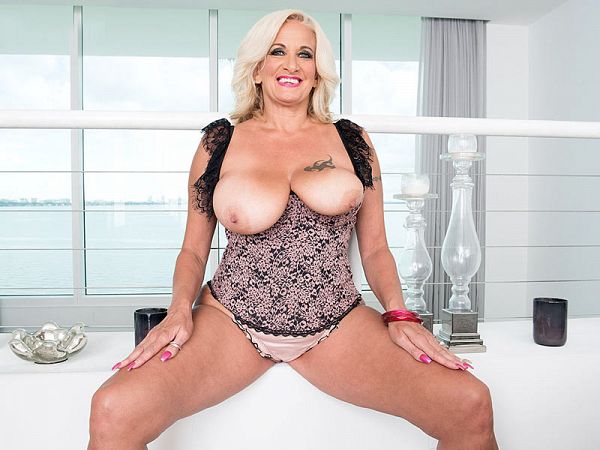 The woman you're looking at now is a happily married, 50-year-old mother of four sons. She rarely has sex with anyone but her husband. She took out her nipple jewelry for this shoot, but the pussy jewelry is in, the tongue jewelry is in and her fingers find their way deep inside her gaping pussy and asshole. Brooklynn Rayne, who's from South Florida by way of New York, is a big-titted slut who had never done porn before she walked into our studio, and she performed like a pro.
We asked Brooklynn to tell us about her top three sexual experiences. Here's what she said:
"Number one was having anal sex for the first time and actually enjoying it. Number two was deep-throating a cock for the first time. It turned me on so much that I squirted all over. Number three was having kinky sex with a well-endowed man and having him bust three nuts one right after the other: one in my ass, the second in my pussy and the third in my mouth and all over my face. That was pretty awesome. As you can tell, I really love having anal sex."
Yeah, we can tell. Brooklynn takes it up the ass at both 40SomethingMag.com and 50PlusMILFs.com (she came back to shoot for us when she turned 50; she just couldn't get enough of that porn cock).
Here, Brooklynn is playing with herself at home, thinking she's all alone, when she realizes that her step-son is watching her. Rather than slam the door in his face, she tells him to come in and watch. Which he does.
Wouldn't you?